Our quality portable sheds are constructed with thoughtful design rooted in several decades of experience to enhance durability.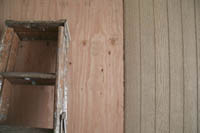 Grooved Fir Wood Siding with no exterior knots
(shown on the right) is ready for our
full body stain
unlike the wall shown on the left. We use stains instead of paint for strong wood adhesion – the stains penetrates deep into the wood grain which reduces maintenance of your shed.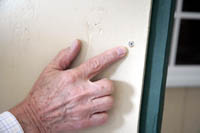 Galvanized wood screws
are used at joints of doors, providing a more rigid, solid frame for strength. Note how the panel on the back of the door (shown left) is screwed as well.  The
removable door panel
allows the door panel to be separated from the trim so door maintenance is quick and simple.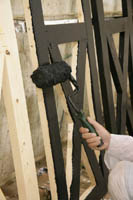 Full body stain is rolled on
, never sprayed. This ensures that the stain penetrates deep into the wood for lower maintenance. Also, our
doors are stained on all 6 sides
– front, back, and 4 ends – so that it
seals the wood panel from the weather
. Here again, the benefit is reduced maintenance for the owner.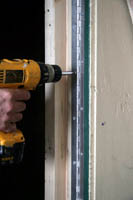 Our doors have
6′ long aluminum piano hinges
whereas most sheds have just 3 hinges installed at the top, middle, and bottom. Having a 6′ long aluminum piano hinge on each door
fully supports the door
and
will not rust
.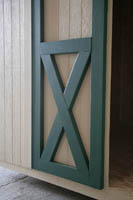 Thicker, hefty
door.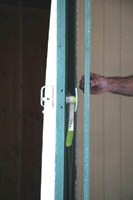 Our door is shown on the left versus a standard door on the right. Note how
our door is thicker, adding bulk and strength
to the most used part of the shed – the door.

Shed doors have a door straightener located on the inside of the door. In case of warpage, this allows tension to be put on the door to straighten it.